When Brands Miss Out on Hidden Sell-Out Opportunities on Amazon Marketplace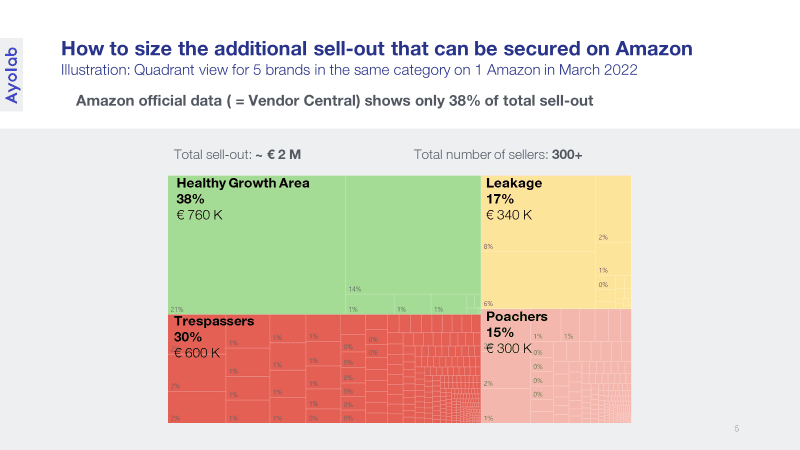 1 June, 2022
Have you heard about the current conundrum brands face on Amazon….. because of Amazon?
Maybe your major brands are already active on the platform or you plan to launch in the near future.
Or, perhaps you're so deep into the marketplace that you have ROAS myopia and wonder what the bigger picture looks like.
This short guide is an eye-opener on how to enable and grow healthy brand sell-out on Amazon. In other words build the best Customer eXperience (CX) to boost Order Conversion Rate (OCR), profitability and top line revenues.
As you are about to learn, major brands selling on Amazon marketplaces are missing out on opportunities to boost CX, OCR and profitability that do not involve additional ad spend, yet will increase their ROAS (Return On Ad Spend).
In Amazon We Trust
In 2019, Jeff Bezos in his annual letter to shareholders commented on the rising importance of independent sellers : "Third-party sales have grown from 3% of the total to 58%. To put it bluntly: Third-party sellers are kicking our first-party butt."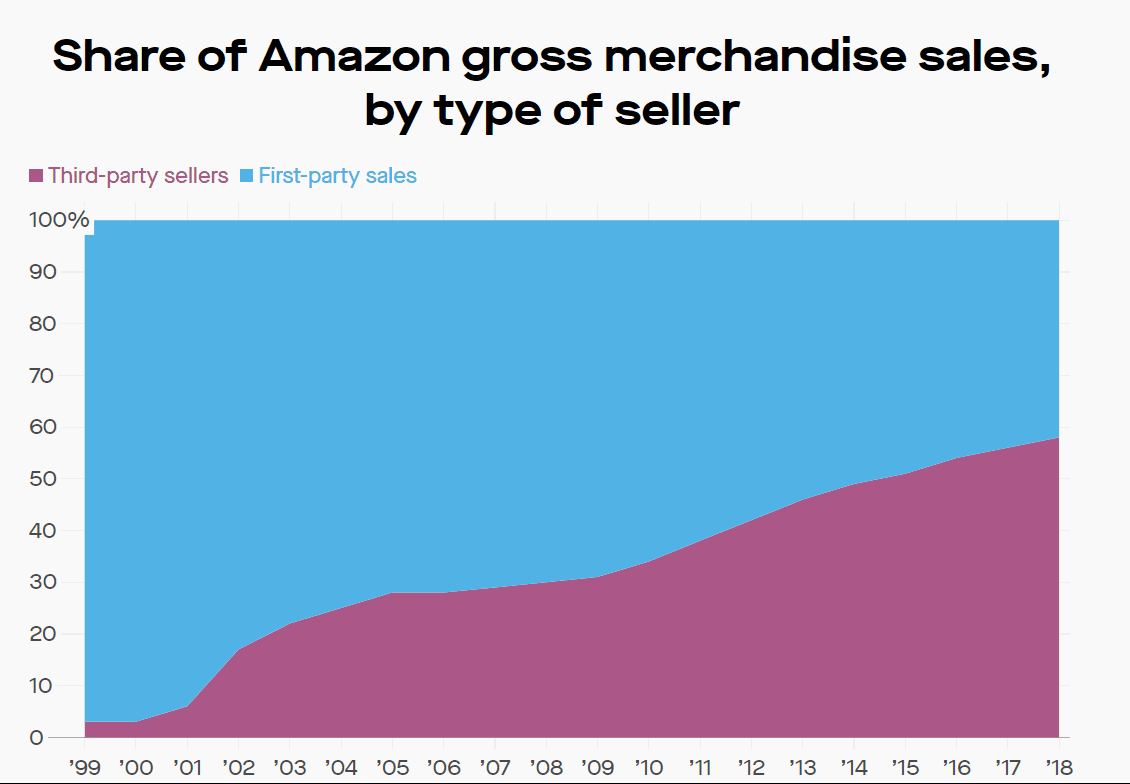 In the spirit of the Flywheel, increasing the number of sellers is an objective for Amazon because, in the eyes of Amazon, a growing number of sellers contributes to increasing the selection (assortment) available to Amazon consumers, therefore improving (i) the Customer eXperience (CX), (ii) the attractiveness of the Amazon website, and therefore (iii) its profitability.

For the most valuable brands and their mother companies, Amazon represents too big of a risk and opportunity to be ignored. If they decide to launch on the platform, they will ensure to protect their brand image, the customer service and their profit margins.
In order to secure the best CX and brand image, Amazon 1P is often the preferred option for most valuable brands to sell to Amazon clients.
This model indeed enables the shortest delivery times thanks to Prime, as well as the best digital experience with high-quality item pages (product pages with high IDQ score). With the Vendor status, the brands can supposedly monitor in real time the sell-out generated on their products by Amazon 1P.
However, no retailer should be left unchecked.
This is the goal of the Amazon Brand Success Quadrant, to identify untapped sell-out for your brand on Amazon while safeguarding CX and OCR. With no additional advertising dollar.
It Starts With Data and Ends With Data
As a first step, brands get involved in lengthy negotiations with Amazon 1P in each market about such commercial terms as the approved assortment, and digital content for their official product pages. On these specific product pages, identified by their unique ASIN, Amazon grants access to ASINsell-out information via Amazon Vendor Central. This means that the Amazon story often starts with the Amazon 1P Vendor Central access where Amazon shares its results (in sell-out) on your products as a brand.
(Some mother companies might also consider some other preferred partners, like 3P sellers who distribute products of the brands on Amazon. In some cases, they may leverage pre-existing dedicated Selective Distribution Agreements, or SDAs.)
This very common 1P strategy leaves a major blindspot on the brand sell-out.
In fact, other sellers and other product pages generate sales that you are not aware of. Whether you work directly with Amazon 1P, only 3P sellers, or in a hybrid model, equipping yourself with a full overview of your brand sell-out becomes a necessity when you want to operate on one of the biggest and most complex marketplaces in the world.
Generally speaking, the e-commerce key account manager (e-KAM) for Amazon has one sole aim: grow sales with Amazon 1P, because this distribution channel will provide a great CX on ASIN pages that the brand can control and optimize in terms of digital content and online advertising. In their arsenal of tools, e-KAMs usually rely on analytics and actionable data that help them outsell the competition by placing better ads (better copy, better assets) or outspending everyone else in the battle for the Amazon Buy Box. The problem is that everyone does the exact same thing, so outspending becomes the go-to strategy hoping to outperform or outsmart the competition.
As we are about to learn, e-KAM and their team can now outsmart the competition by looking where no one else looks, gain actionable insights, take action and get immediate results that will last in the long run. Not only in terms of top-line revenues, but also by safeguarding (i) CX , (ii) OCR, and (iii) brand image.
Common knowledge and consensus state that the only way to grow your sell-out on Amazon is to dial in your ad spend and optimize for conversions. What if there was another way that still increased OCR while keeping satisfied customers, all without spending more on advertising?
In Amazon We Don't Trust: Circumventions
Some might refer to Amazon product pages as e-boutiques. Some of those product pages make millions of US dollars in revenue in a few days. In physical retail, you would not imagine several boutiques of the same brand in the same street.
However, this exists on Amazon.....
3P sellers regularly create duplicate item pages for an already existing item page to
Sell on a less competitive landscape and,
Hide from monitoring tools that target unauthorized sellers.
Amazon insiders call those duplicated item pages "circumventions". A lower IDQ score on circumventions could negatively impact CX and OCR where the brand is already losing in profitability compared to its official 1P business.
According to the "Amazon Advertising Report" from online selling platform Jungle Scout, 74% of U.S. consumers begin their product searches on the Amazon.com site (source: here). Meaning, not only do circumventions impact profitability, CX and OCR but they also impact the quality of search results. As an illustration, at Ayolab we counted 43 different ASINs for the exact same item for a client of ours on amazon.de. Needless to say the search results are massively polluted and the customer experience is really bad, especially if you shop with your smartphone as most shoppers do.
Another way to imagine how circumventions play out is to look at a brick and mortar scenario:
If you tried to visualize a street with 5 stores of the same international beauty brand, an official store with a stylish display, and four non-official with a window-shop ranging from suboptimal to outright lousy, you can easily illustrate the problem of Amazon circumventions.
This is one of the most common risks associated with poor monitoring on the marketplace. This is how the Amazon Brand Success Quadrant supports a better control over distribution: it highlights the low-hanging fruits and long-term efforts to grow healthy business without injecting any advertising dollar.
The Amazon Brand Success Quadrant
When you check Amazon Vendor Central you just see the tip of the iceberg. Like the proverbial iceberg, you can't see what's lurking below the surface: you can't see the following brand sell-out hidden opportunities:
Leakage - Sales made by your preferred partners on your unapproved assortment. Not surprised they do so? Probably not. But you would be surprised about the number this represents. And even more surprised about how much revenue they're making on approved assortment but on the wrong product page: yes they probably are active on circumventions. Unapproved assortment can mean products you don't want them to sell but also products you want them to sell but not on the right product page.
Poachers - Sales made by other sellers on your approved assortment. Yes they are playing on your official pages, trying to secure transactions away from your preferred partners. Maybe you heard about the Buy Box ? That's where the battle is raging, the Buy Box or the "defaut sale" is how you secure North of 90% of transactions on any product page. People fight hard on price and delivery details to secure the Buy Box. When these sellers start securing the Buy Box for your official pages, this significantly impacts your P&L.
Trespassers - $ made by non-preferred sellers on unapproved assortment, products that you would prefer not to see available on Amazon, either because you want to keep them for offline retailers, or because they are obsolete, for instance.
Now let's split your brand sell-out across those segments and you end up with the Amazon Brand Success Quadrant.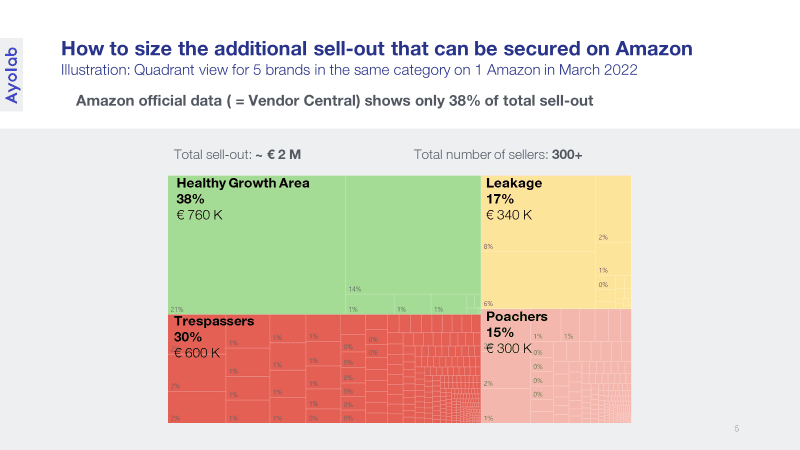 The Ayolab technology breaks down the analysis in 4 steps:

Get all occurrences of your brand on Amazon using Natural Language Processing.
Estimate the brand sell-out and split per item and seller.
Flag official and unofficial product pages for your brand.
Flag the revenue made by your preferred partners on your official pages.
As you can see above, the healthy growth area in green is where brands want to see themselves thrive. We empower brands to do just that.
Click here to speak with one of our Amazon marketplace specialists to learn how the Amazon Success Brand Quadrant can help you grow profitability and OCR while safeguarding your CX and brand image.