How to Mitigate the Amazon Flywheel Effect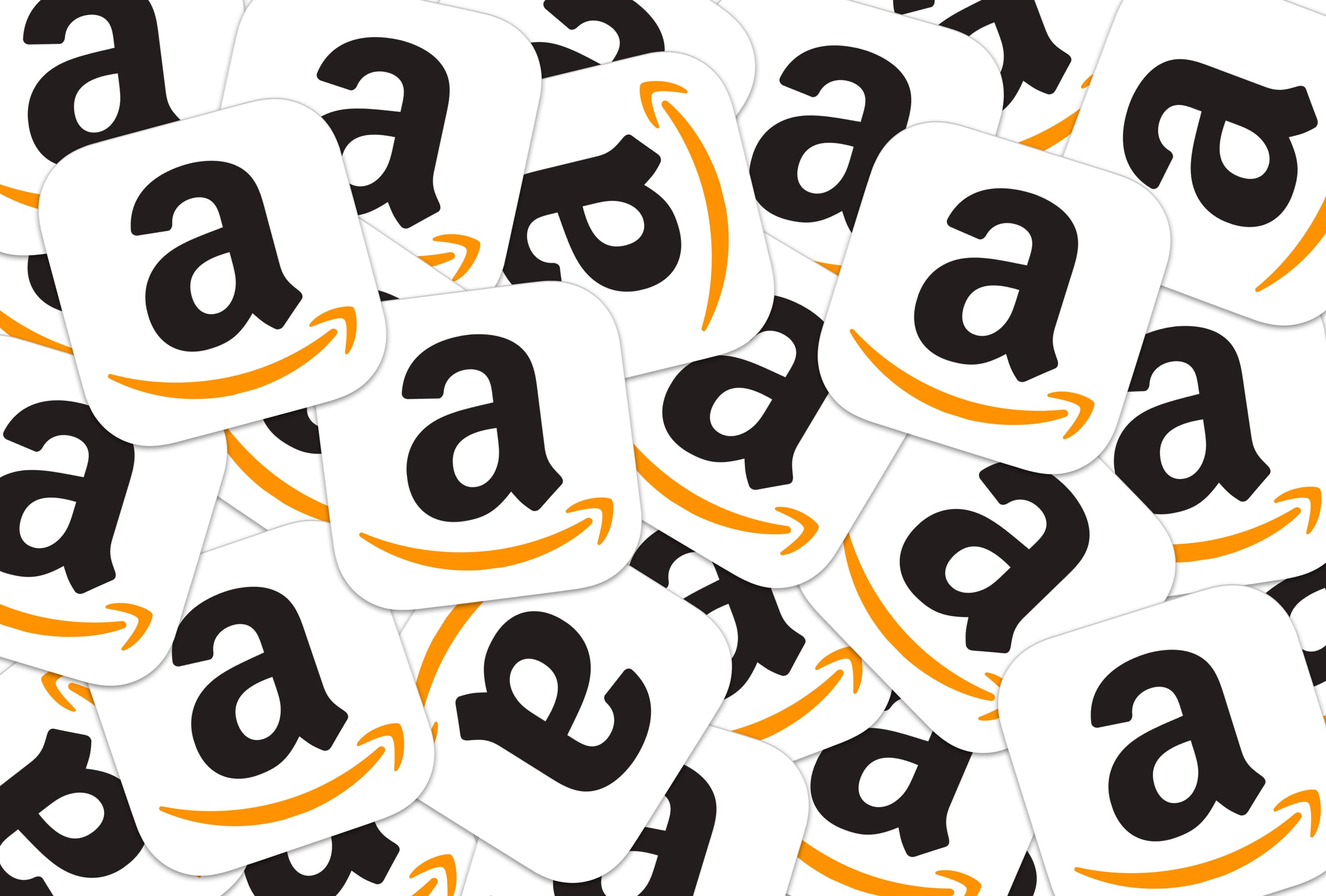 10 February, 2023
For any company operating in the modern-day business environment, it's a challenge trying to balance the need to increase revenues, and therefore profitability, while simultaneously trying to safeguard and build the brand. This, while also managing the complex nature of strategic business relationships. This balancing act is even more prevalent with brands looking to place their products on the Amazon marketplace – either through selected third-party sellers (3P) or via first-party relationship with Amazon (1P).
This article aims to create an understanding of how the Amazon Flywheel framework affects brands, and what can be done to mitigate that effect.
What is the Flywheel effect?
In his 2001 book 'Good to Great' author and business strategist, Jim Collins compares the journey towards business success to that of relentlessly pushing a giant flywheel. Collins states that there is no miracle moment or single defining action that creates business success. But rather, it is the culmination of many, consistent actions that lead to the breakthrough. Amazon saw the power in the framework that Collins created and adapted it for their own purposes, eventually becoming what is known today as the Amazon Flywheel.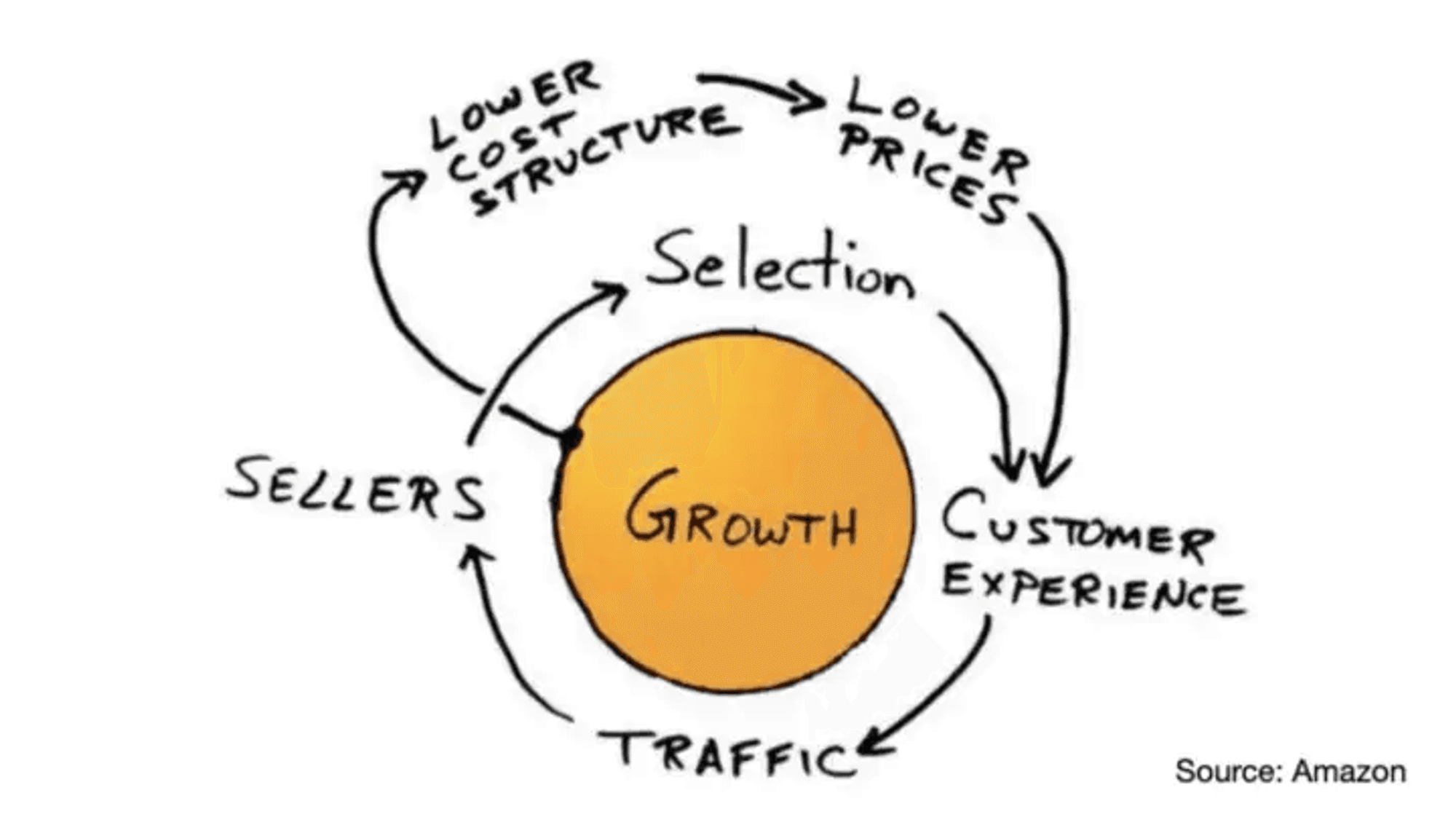 Amazon's Flywheel - Developed by Jeff Bezos
The Amazon Flywheel follows a simple business premise, also known as the 'Virtuous Cycle', that seeks to grow the marketplace through the generation of traffic to the site. The start of the flywheel is a wide selection of items for sale on the platform, combined with ever low prices (not short-term deals) and great Customer eXperience (CX) to drive web traffic. In turn, this attracts more third-party sellers to the platform, bringing in more selection and fueling growth that brings economies of scale and further lowers prices, making the flywheel turn.
This continuous cycle and interaction between the various components is how Amazon has built itself into the dominant eCommerce force in the world today. This balance of power ensures that prices are kept low, increasing competition on the platform, which once again attracts more buyers and opens up additional opportunities for revenue generation for Amazon, either with (i) inventory storage and orders fulfilment for 3P sellers, with its well-known "Fulfilled By Amazon" (FBA) program, or with (ii) online advertising for brands with its "Amazon Ads" program
The business implications
While this Flywheel Model, and its subsequent effect, pays huge dividends for Amazon themselves, it holds many implications and ramifications for brands making their products available on the platform. The resulting effects don't always result in favorable outcomes for brands and their business objectives. From the perspective of brands, they are drawn to the Amazon platform as a way of accessing much larger markets or even global markets for their products. On the surface, this seems like a perfectly reasonable and astute route to revenue. However, due to the unequal balance of power within the relationship, what they encounter on the platform may be contrary to their expectations.
The reality for brands with products on the platform may sometimes be akin to the wild west, where anything goes in the name of landing the sale. As we have identified, the Amazon Flywheel model focuses on providing online shoppers with the best Customer eXperience (CX) possible, but also on increasing sellers on the platform. This growing number of active sellers may unfortunately result in a lot of unethical behavior taking place, such as:
Multiple sellers emerge in profitable categories. Once a product or category becomes popular, and revenues within it increase, many new sellers emerge as a consequence in order to try to get a share of the revenue. Among those sellers a brand may be surprised to find its own wholesalers and distributors, who are not expected to divert inventory meant to feed offline points of sales to develop an online B2C business of their own.
Increased competition driving prices down even further. Due to the increased competition and even the unethical undercutting of prices to try to secure the sale, the result is further decreases in profit margins for your authorized sellers. Needless to say, this long-lasting price erosion is a major blow to the equity value of the brand.
Reduced revenues. More of your revenue ends up flowing through wholesalers (via unapproved third-party sellers) instead of through Amazon 1P. Another effect is revenue flowing across borders without your control, damaging the brand's ability to read performance per country in national brand's P&Ls
Eroding of distribution relationships. Because brands don't know where the competition is coming from, or where their products are originating from on the platform, it can lead to an erosion of trust with their approved third-party sellers as everyone becomes a suspect.
How to mitigate it
There is only one surefire way of mitigating the Amazon Flywheel Effect discussed in this article. And that's by having access to quality, transparent data on the platform. The only problem with this is that Amazon doesn't make the required data available to brands and sellers on its platform. The reason for this is twofold, i) It would breach the data privacy laws present in most countries today, and ii) It would go against their model by decreasing the number of sellers on their platform and thereby erode the power dynamic.
All is not lost however, Ayolab is an analytics company that specializes in delivering transparent data from the Amazon marketplace in a way that is valuable for brands. Through their dashboard, Ayolab identifies and delivers complete clarity around four vital data points, that include:
Sales made by preferred partners on unapproved assortment.
Sales made by unapproved sellers on approved assortment.
Where the growth areas are that can easily add between 40%-60% to your sellout.
Root cause analysis on the Buy Box.
The value of having a data partner like Ayolab can be exponential for brands that are invested in the Amazon marketplace as part of their distribution network. The data we give you access to not only allows you to grow your revenues via the platform, but also acts as a valuable input in the strategic decision-making processes that affect your entire business.
Conclusion
There is no doubt that making your products available on Amazon holds a number of opportunities for brands – particularly in terms of getting a far greater reach across a much wider market. However, the increase in opportunity also brings with it a number of challenges that need to be strategized for and mitigated against if you are to be successful in reaching the business objectives set for the platform.
Having access to transparent, quality data is a vital component to being able to make effective and efficient strategic decisions, and a company like Ayolab is an essential partner in this regard.
Click here to read more about the '5 data points you need, that Amazon doesn't give you'.