The House Always Wins: Amazon's Business Model vs Your Own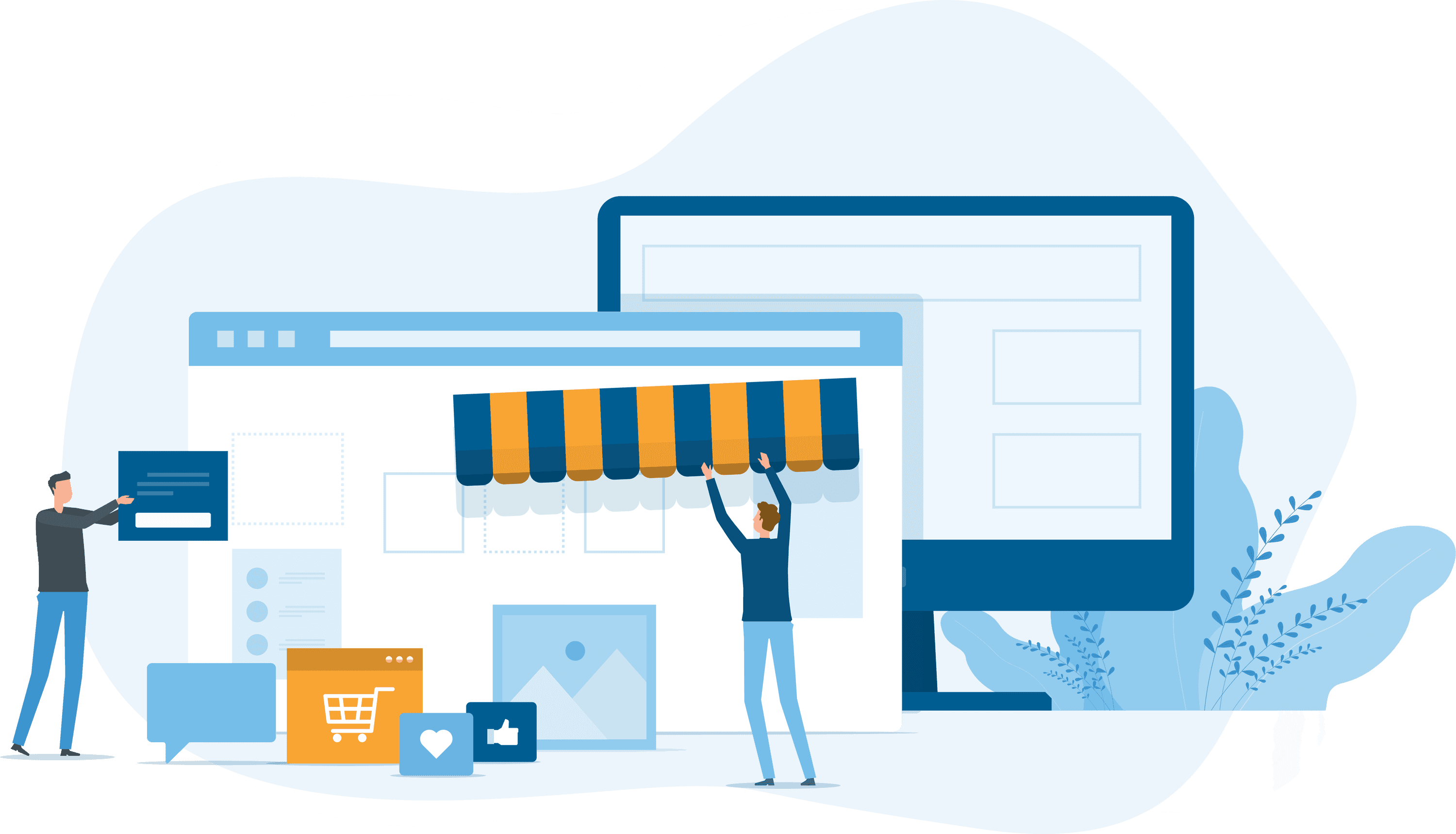 8 February, 2023
Amazon's key focus is offering consumers a wide selection of products at low prices, combined with a great Customer eXperience (CX) as illustrated by Amazon's famous Flywheel. However, selling at the lowest price reduces profit. And that's why Amazon's e-commerce segment has the smallest profit margins compared to its other business models, including third-party seller services, Amazon Web Services (AWS), subscription services, advertising revenues and physical stores.
But, by keeping prices low, they've managed to attract more customers, brands and third-party sellers. In turn, bringing in more revenue to their other business models.
We'll dive deeper into where Amazon's marketplace fits into its entire business model and a breakdown of the Amazon Flywheel effect. Along with why, no matter which business model or Amazon e-commerce optimization strategy sellers and brands use, Amazon always wins.
Where Amazon's e-commerce platform fits into its business model
Amazon marketplace is a two-sided e-commerce platform where third-party sellers and Amazon itself sell products from a variety of categories. Amazon's e-commerce model is the main asset of the company. But its margins have strategically been kept low—compared to their other high-margin business segments (like AWS and advertising).
Amazon's goal is to ensure customers get the lowest prices, have a huge selection to choose from and receive great Customer eXperience (CX) so that they keep coming back—known as the Amazon Flywheel effect. This provides a constant stream of customers and a growing third-party seller list. While actual sales don't bring in massive profits, the additional services that Amazon provides as a result of those sales do. 
See below a diagram of how Amazon's Flywheel works: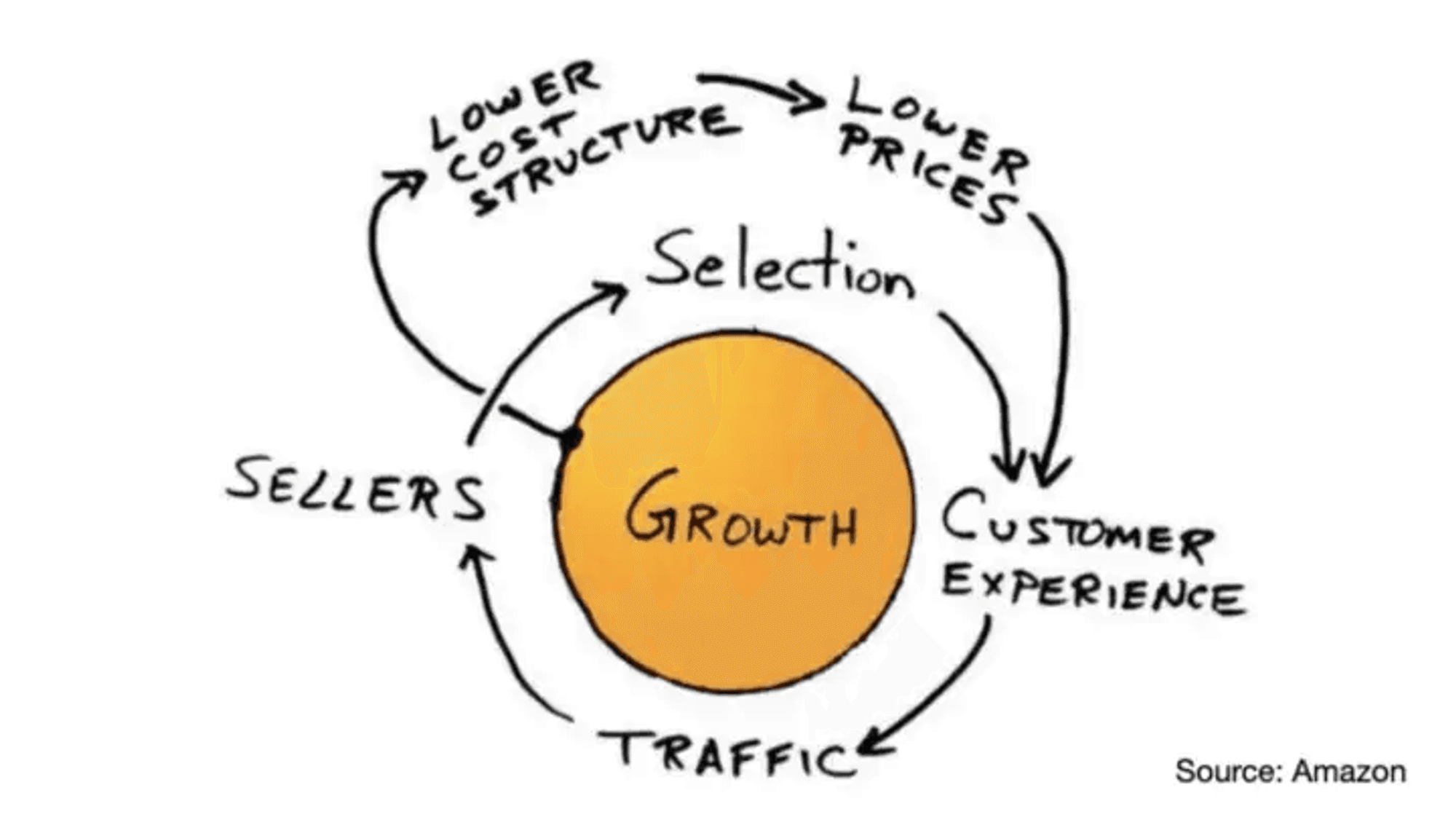 The e-commerce giant's operating model is designed to manage the entire process, including the production of its private label products, inventory storage, picking, packing, shipping and delivery of products at a massive scale.
They've developed their own massive ecosystem, incorporating multiple business units into their business model. Amazon provides:
The platform (Amazon marketplace)
Seller resources (warehouses and fulfilment centers used for picking, packing, shipping and delivery of products)
The infrastructure (e-commerce website and apps)
Marketing tools (Amazon paid advertising)
Other Amazon e-commerce optimization tools and subscription services.
This ecosystem has created a Flywheel effect, where the low prices on the marketplace enhance customer satisfaction and drive continuous traffic to the platform. High, steady volumes of traffic attract more third-party sellers (3P sellers), which increases selection available to customers, again contributing to customer satisfaction. The more sellers on the marketplace, the more products sold and the more revenue generated for Amazon's various business units. Income from these business units gets pumped into bettering the services offered, optimizing the Amazon e-commerce platform and closing the Flywheel.
Why Amazon Prime plays a crucial role in Amazon's overall business model
Amazon Prime plays a pivotal role in this entire business model. Amazon Prime is a subscription service from Amazon. For an annual fee of $139 in the US, as of February 2023, members get free two-day US shipping and extra privileges like photos storage and video streaming.
Subscription services, including Amazon Prime, generated almost $32 billion in revenue in 2021, making it a significant contributor to Amazon's business model. However, Amazon Prime does more than just bring in direct revenue. It contributes to other revenue streams, namely the e-commerce model (contributing to the above-mentioned Flywheel effect).
Research shows that Amazon Prime members spend more than double non-Prime members. They're also said to be more loyal, with 93% of US and 84% of UK Amazon Prime members saying they're more likely to buy from Amazon than directly from a retailer's website.
The most popular business models Amazon sellers use to sell on the platform
According to JungleScout, there are six popular Amazon business models sellers use to sell products on the platform. Note that some sellers use a combination of models, depending on what works best for them.
Private label (67% of 3P sellers): Creating your own product label or brand
Wholesale (26% of 3P sellers): Buying directly from a brand or distributor with legitimate inventory and then selling on Amazon
Retail arbitrage (19% of 3P sellers): Buying discounted products through retailers to sell on Amazon
Online arbitrage (17% of 3P sellers): Buying discounted products online to sell on Amazon
Dropshipping (9% of 3P sellers): Buying products directly from a manufacturer who also fulfils the order and ships directly to the buyer
Handmade (6% of 3P sellers): Creating your own products to sell on Amazon
The private label business model involves identifying a product with high demand and low competition, finding a manufacturer to produce the product, branding and promoting the product on Amazon. While it's the most popular Amazon sales model, other models are gaining popularity.
The different Amazon fulfilment methods
Once you've picked a sales model, you need to decide how to get your product to your customers. Amazon offers two fulfilment methods:
Fulfilled by Amazon (FBA): A selling method in which Amazon stores, picks, packs, ships, and delivers the products to customers. The most significant benefit of this is the increased customer experience, which leads to an order conversion rate increase (as delivery conditions significantly impact buyers decision). It's also more cost-efficient and provides brands with access to the entire European market by leveraging Amazon's own cross-border delivery solutions that are far more cost-efficient for 3P sellers than legacy commercial carriers such as Royal Mail, La Poste, DPD or DHL—to name a few.
Merchant-Fulfilled Network (MFN): A selling method in which a seller lists their products on Amazon but manages all storage, shipping, and customer support themselves (or through another third party).
One of the defining features and benefits of Amazon's business model is its fulfilment. They've made it as convenient as possible for sellers to use FBA—which is why the majority of third-party sellers opt for this method. The more sellers using FBA, the happier Amazon is. Why? Because FBA secures a great CX for Prime Members for goods that are not sold by Amazon itself. Once again, it's in Amazon's best interest for all customers to receive a good CX as this contributes to their Flywheel.
Why Amazon always wins
Amazon is more than an e-commerce platform. They have a diversified business model that extends to third-party seller services, AWS, subscription services, advertising revenues and physical stores.
They don't only make money from selling products but also by providing services to third-party sellers and brands. Amazon is also getting revenue via inventory management, fulfilment, advertising, etc. So, no matter how successful your products are on the platform, Amazon gets a piece of the pie. And that's why they're consistently winning.
As a brand, you also want to benefit from your products being sold on Amazon. But, it's a bit more complicated than understanding their business model. Another issue that brands need to be aware of is the many unauthorized sellers popping up on the platform, namely in the form of trespassers, poachers and leakage. That's where Ayolab comes in, we help brands better understand what's happening with their products on the marketplace by providing you with the insights that Amazon doesn't share.
To learn more about this, check out our article: Why Brands Face POACHERS on Amazon and What to Do About It.